Nordic Naturals Baby's Vitamin D3


400 I.U. vitamin D3 in just one convenient drop

Meets the American Academy of Pediatrics daily recommendation

Dropper bottle for application during breast-feeding, or into food and drink

Supports healthy immunity*

May support normal sleep rhythms*
The American Academy of Pediatrics recommends that breast-fed, or partially breast-fed, infants receive 400 I.U. of supplemental vitamin D daily. Nordic Naturals Baby's Vitamin D3 is in the natural form of vitamin D (cholecalciferol) for optimal absorption and comes in a carrier oil of certified-organic extra-virgin olive oil. It offers the recommended dosage in just one drop.

One drop daily, or as directed by your pediatrician or healthcare professional.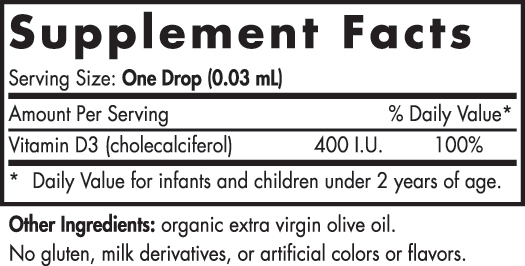 * These statements have not been evaluated by the Food and Drug Administration.
This product is not intended to diagnose, treat, cure, or prevent any disease.