Instantly Soothing, Delicious, and Healthy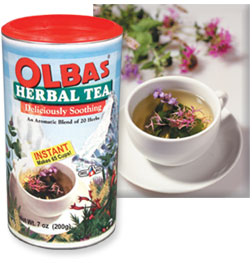 Soothes You Any Time of the Day or Night

Delightful Herbal Aroma

Surprisingly Delicious Herbal Flavor

Excellent Hot or Iced, Blends Instantly

A Mixture of 20 Soothing Herbs

Instant - No Tea Bags, Straining or Mess

Gluten Free
Discover the delicious taste and healthful benefits of this 100% natural herbal tea. Carefully blended in Switzerland, Olbas Instant Herbal Tea is a mixture of 20 soothing herbs harvested from the earth's finest crops, enhanced with pure essential oils that make Olbas Remedies famous around the world.
Provides a delightfully warm, soothing feeling you will enjoy at any time of the day or evening. Especially beneficial for relief from chills, and during times of seasonal discomfort.
Has a delightful, Olbas-herbal aroma that provides a pleasant, refreshing sensation to your nasal passages. Gives you an immediate, fresh, clean feeling in the nose, sinuses and lungs.
Enjoy it anytime, either hot or iced.
Directions:
For Hot Tea: Use 1 teaspoon per cup of hot water. Stir until completely dissolved. If a stronger tea is desired, use more. No sweetener necessary.
For Iced Tea: Dissolve in a small amount of hot water, then add cold water and ice.