RAW Pine Pollen contains all of the living nutrients, vital enzymes and co-enzymes, and the phytosterols and adaptogenic compounds that our customers are looking for (including phyto-androgen analogs). It is minimally processed to clean and fracture the otherwise indigestible cell wall of the pollen, resulting in a highly bioavailable, completely digestible powder.*
Pine Pollen is equally cherished both for its phyto-androgens (similar to testosterone) and adaptogens as it is for its nutritive properties. The medicinal use of Pine Pollen has a written history dating back approximately 1500 years. Today it has bloomed in popularity for the same reasons people have been using it for nearly a millennium: its positive actions on the endocrine system (and the phytoandrogens it contains), its deeply nutritive properties, and key anti-fatigue qualities. * In short, because Pine Pollen is a safe, strong, and effective adaptogenic and tonic herb.*
Product Highlights
Our Mountain Harvest Pine Pollen is guaranteed wild harvested exclusively from natural, mountain-borne sources and only from the potent Pinus massoniana pine tree;
It is harvested at the peak of potency, when the pine catkins are most active, within a 3-day period once a year;
It is lightly processed to aid digestion by fracturing the pollen cell wall, resulting in increased bioavailability and potency (up to 50 times greater than standard Pine Pollen);
It contains phyto-androgens;
It contains a complete profile of raw vegan amino acids, vitamins and minerals, and anti-aging compounds;
Encapsulation done in a domestic FDA cGMP facility using vegan/vegetarian capsules;
It can help restore healthy, vital levels of testosterone.*
Intended Uses
This product can be found categorized as part of the following Product Guide collections:
What You'll Find Inside
The opaque outer pouch and the dark color of the bottle protects the ingredients from damage and degradation by UV rays and helps to keep the contents dry. Inside you will find an additional re-sealable package, again to help promote freshness. All RAW Forest Foods packaging is food grade and done domestically in our certified organic, FDA cGMP facility. We have selected to employ pouches for the packaging of our herbal powders because they require only a small fraction of the resources that larger bottles or jars do.
An Overview
This completely raw, minimally processed Pine Pollen is harvested within a three-day window each spring from select Pinus massoniana pine trees to ensure our customers receive the cleanest, strongest, highest quality product possible. As the first company to offer Pine Pollen in the West, RAW Forest Foods is able to leverage our long-standing relationships to guarantee that only the highest quality pollen goes into producing our full Mountain Harvest collection.
More Information
Specific in-depth, extended information about Pine Pollen can be found on our site by following the links below:
Using RAW Pine Pollen Powder and Capsules
RAW Pine Pollen Powder: Use 1 teaspoon – 1 tablespoon, as needed.
RAW Pine Pollen Capsules: Use 2 capsules, as needed.
Pine Pollen can be energizing, use late in the day may cause sleeplessness.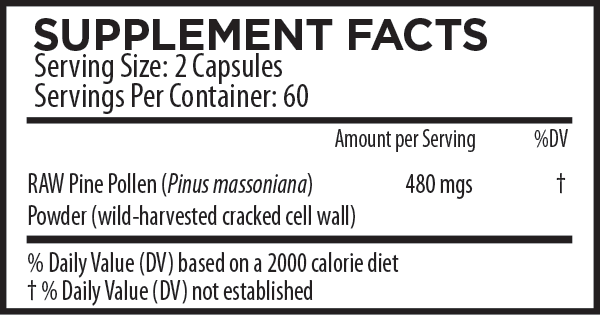 Other Ingredients: RAW Pine Pollen Powder contains no other ingredients. RAW Pine Pollen Capsules contain plant cellulose capsules.
This product is GMO free and is vegan/vegetarian.
At RAW Forest Foods, our favorite way to use this product is simply to combine it with fresh, cool water, and to consume it on an empty stomach. This is how we recommend others use the product. Of course, whichever way you decide to use it, the best way is the way that ensures regular, consistent use, because no gain is made from a product that sits untouched in the cupboard.
Learn more about using all of our products here.
Ideal Storage
Store this product, and all RAW Forest Foods products, in a cool, dry place, away from sunlight and moisture. Try and use in a timely manner after opening the package.
Cycling Herbs
For those customers who prefer to rotate their pro-androgenic and tonic herbs, we suggest a schedule of five days on and two days off, or four weeks on and one week off.
Disclosures
Before starting any new medicinal herbs or nutritional supplements (from our company or otherwise), customers should consult with their qualified health care practitioner. This not because we question the safety of our products, but because we believe in the strength of our products and that plants have a medicinal, therapeutic potential.
This product is not for use by those under the age of 18, who are pregnant or nursing, or who are allergic or adverse to any of the ingredients contained within.
* These statements have not been evaluated by the Food and Drug Administration. This product is not intended to diagnose, treat, cure, or prevent any disease. Please view our full Terms and Conditions.
RAW Forest Foods, your premier source of Pine Pollen.