Ultimate Omega® Junior 90 mini soft gels
High potency omega-3 concentrate for ages 6-12



680 mg omega-3 per serving



Natural strawberry flavor (free of strawberry allergens)



Support for brain health, mood, and learning*



Supports normal cognitive function and social development*
School-aged children face many new social and cognitive challenges. Their brains are still developing, becoming more specialized, and able to process information faster. Attention spans also start to increase, and behaviors and emotions become more controlled. Ultimate Omega® Junior offers high-potency omega-3 fish oil to support continuous brain development, cognition, and learning.* Mini-sized soft gels are easy to swallow and tasty enough to chew. Made from 100% wild-caught sardines and anchovies, with a delicious natural strawberry flavor kids love.

Unlike other brands, we make all our fish oil concentrates in the triglyceride molecular form—the form naturally found in fish, and the form your body most easily absorbs.* Everything we make is non-GMO and third-party tested, surpassing the strictest international standards for purity and freshness. Nordic Naturals fish oils are Friend of the Sea (FOS) certified and sustainably made in a zero waste facility powered by biofuel.

Two soft gels daily, with food, or as directed by your healthcare professional or pharmacist.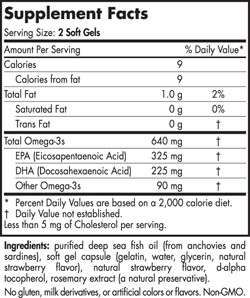 * These statements have not been evaluated by the Food and Drug Administration. This product is not intended to diagnose, treat, cure, or prevent any disease.