Royal Pine Pollen Tincture
Third Generation Pine Pollen Tincture. Made with 100% fresh Mountain Harvest RAW Pine Pollen
From our Mountain Harvest Pine Pollen Collection
Also Available in a 2 Ounce Bottle
This is a propitiatory, clinical grade true dual extract of fresh, RAW Pine Pollen.
Pine Pollen is an important pro-androgenic and adaptogenic herb, and is known to include bio-available Phytoandrogens, plant-analogs of the male sex hormones:
Androstenedione;
Androsterone;
Dehydroepiandrosterone (DHEA);
Testosterone.*
Product Highlights
Our Royal Pine Pollen Tincture is the strongest

Pine Pollen Tincture

available;
The potent 1:2 extract delivers an equivalent of

1 gram of RAW Pine Pollen

per serving;
From our exclusive Mountain Harvest Pine Pollen collection;

Alcohol suspended extract offers quick absorption and maximum effect

;
Made exclusively by RAW Forest Foods in a domestic FDA cGMP certified facility;
The standard 2-ounce bottle contains 29.5 full servings;
The large 4-ounces bottle contains 59 full servings.
RAW Forest Foods' unique 1:2 true dual extraction process results in the strongest tincture available, made from select wild harvested and ecologically cultivated herbs, ensuring our customers with what we truly believe to be the highest quality tincture available anywhere.
Choose Your Bottle Size
Our clinical grade Royal Pine Pollen Tincture is also available in a 2 ounce bottle.
Additionally, Pine Pollen Tincture can be found in our Elevated Pine Pollen Tincture (with Nettle Root, Chen Pi, and Zhi Zi), Endocrine Strengthening Formula Tincture, and our Eros' Arrow Aphrodisiac Elixir Tincture.
Intended Uses
True Dual Extract Tinctures
While many refer to all tinctures as dual extracts, because they are extracted in a combination of water and alcohol (ethanol), we offer true dual extracts. Using water, alcohol, and heat, we make a decoction of the menstruum (the solution of herbs, alcohol, and water)—a vital difference that produces a cleaner, more potent tincture. It's a more involved, more expensive extraction process, but we think our customers are worth it. We know our customers are worth it.
What You'll Find Inside
Each bottle contains either 2 or 4 ounces of our Royal Pine Pollen tincture. This tincture, like all of our tinctures, are professionally prepared in our domestic, certified organic, FDA cGMP facility. All of our tinctures are extracted using pharmaceutical grade alcohol and are bottled in opaque glass bottles to protects the ingredients from damage and degradation by UV rays.
An Overview
As part of a full line of Pine Pollen products, our Pine Pollen Tincture is especially cherished by customers looking to gain the phyto-androgens (androstenedione, androsterone, dehydroepiandrosterone (DHEA), and testosterone) that are present in Pine Pollen. Pine Pollen Tincture is used to increase the levels of male sex hormones and help increase and balance levels of testosterone to estrogen.*
Pine Pollen is a uniquely potent, natural substance that contains a high concentration of a full spectrum of nutrients, specific anti-aging compounds, bio-available androgen hormones, raw amino acids, vitamins, and minerals, and dense antioxidants, making it the most complete of all "super-foods." The powerful mix of pro-androgenic compounds found in it is unseen anywhere else in the plant world.* All of these compounds work in unison to provide a profound benefit for a healthy and long life.*
This tincture is extracted to a 1:2 ratio, making it the strongest available. Learn more about our tincture processing here.
Increased Absorption
As an alcohol-based tincture, the active compounds present are able directly to cross the cell membrane and enter the blood supply immediately, unlike our Pine Pollen Powders which must be digested.
More Information
Fine specific and in-depth information about our Pine Pollen Tincture by following the links below:
Indications
Pine Pollen Tincture deviates from the nutritional aspect of RAW Pine Pollen and focuses on the phytochemicals present within it, specifically the phytoandrogens (plant hormone analogs) androstenedione, androsterone, dehydroepiandrosterone (DHEA), and testosterone. These androgens may help raise levels of free testosterone in the body.
For customers seeking the full range of health benefits from Pine Pollen, while also raising testosterone levels. we recommend a combination of our RAW Pine Pollen with Pine Pollen Tincture.
This is a professional grade tincture and is intended for therapeutic use—not abuse.
Royal Pine Pollen Tincture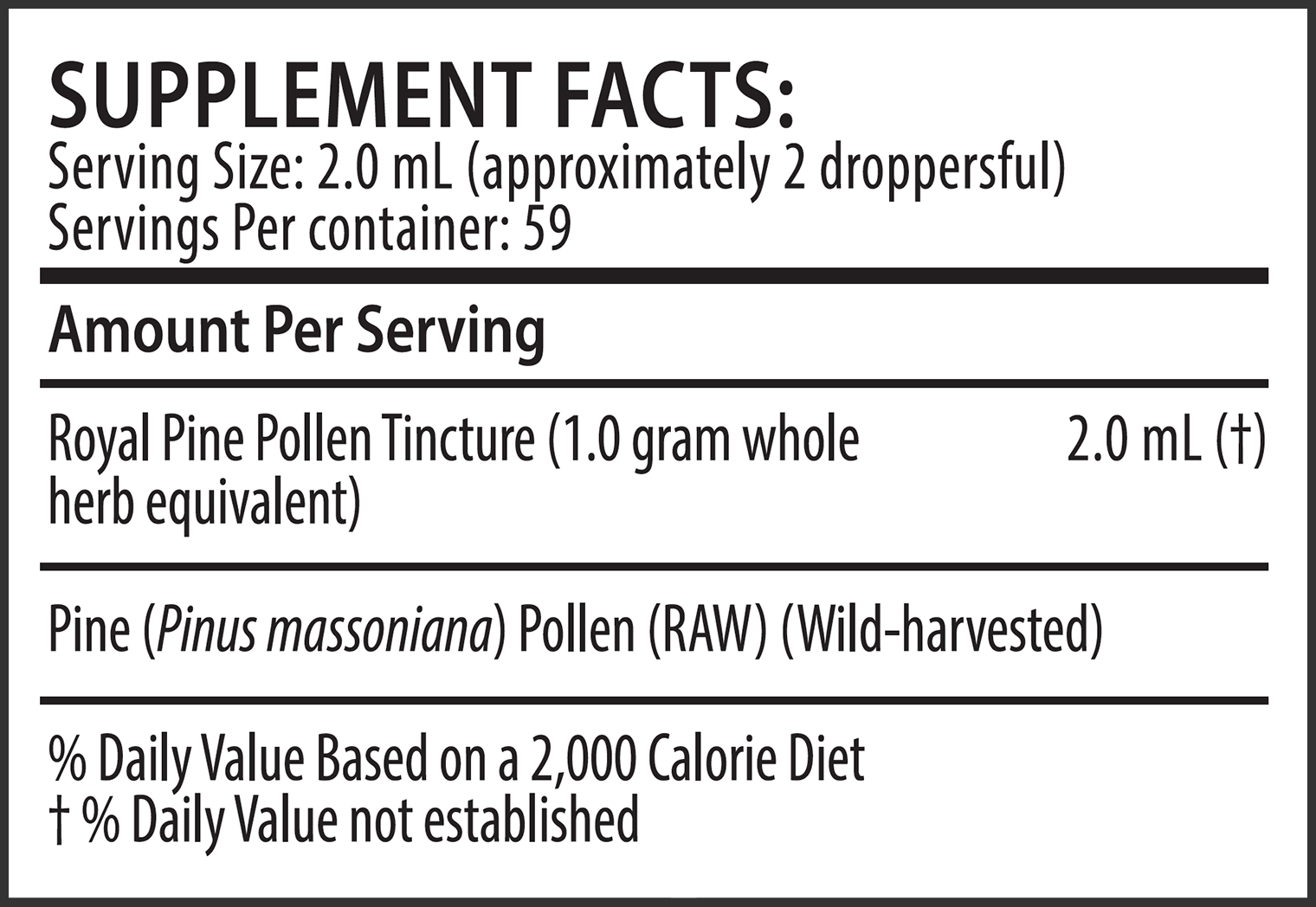 Suggested Usage
Suggested Use 2 mL (approximately 2 dropperfuls), taken as needed. Dosage may be broken up throughout the day into two servings: One dropper in the morning and one dropperful before bed).
Other Ingredients: Pharmaceutical grade (USP) alcohol and water.
In each 4 ounce bottle, there are approximately 59 servings of Royal Pine Pollen Tincture.
Extracted at a 1:2 ratio, each dropperfuls of tincture contains an equivalent of 1.0 gram of fresh, raw herbs per serving.
At RAW Forest Foods, we like to take our tinctures diluted in 2 - 4 ounces of warm water, taken on an empty stomach.
This product is vegan/vegetarian.
Learn more about using all of our products here.
Ideal Storage
Store this product, and all RAW Forest Foods products, in a cool, dry place, away from sunlight and moisture. Try and use in a timely manner after opening the package.
Cycling Herbs
For those customers who prefer to rotate their pro-androgenic and tonic herbs, we suggest a schedule of five days on and two days off, or four weeks on and one week off.
Our Pledge
We have worked hard to offer you this clinical grade Endocrine Strengthening Formula Tincture as part of our full line of Mountain Harvest Pine Pollen. It is a full 1:2, true dual extract, made professionally using fresh, RAW Pine Pollen, in a domestic, FDA cGMP facility, ensuring you an unrivaled (in quality and in potency) tincture.