Strength of Samson
Want an amazing protein powder loaded with superfoods at an amazing price?!?! Strength of Samson is your answer! One of the main ingredients, Proteinxym, is an extremely absorbable, plant-based protein powder made from pea, pumpkin seed, brown rice and hemp, as well as combined with superfoods, probiotics and digestive enzymes that have been clinically proven to digest 90-96% of the protein within 30-60 minutes, significantly increasing absorption and utilization. We decided to add some of the highest quality, whole-food sources of amino acids, such as alfalfa juice powder, bee pollen, wheatgrass juice powder and spirulina, and specialized herbs for building strength and vitality, such as maca, pine pollen, siberian ginseng, licorice root, schisandra, royal jelly, reishi and chaga muchroom extracts and much more. You'll find everything the body needs as this formula is one of the most complete and potent formulas available! Strength of Samson can be used as a great post-workout or even as a meal replacement for weight loss.
Ingredients: Proteinxym blend, alfalfa juice powder,
bee pollen, maca root blend (yellow and black),
wheatgrass juice powder, spirulina, pine pollen, royal jelly freeze dried, licorice root, schisandra berry, goji berry, siberian ginseng root, turmeric root, chaga fruiting body 1:1 extract, reishi fruiting body 1:1 extract and shilajit.
Proteinxym Vanilla Protein Blend Ingredients: Protein complex (pea protein,
pumpkin seed protein, brown rice protein, hemp protein), natural flavors, flax
seed, sunflower oil powder, guar gum, rice bran, chia seeds, AstraZyme
enzyme blend, broccoli, kale, parsley, cabbage, maquiberry, acerola cherry,
blackberry, blueberry, strawberry, goji, raspberry, cranberry and yumberry,
L. acidophilus, B. lactis, L. casei, L. plantarum, rice bran, stevia and sea salt.
Suggested Use: 1 heaping tablespoon 1-3 times per day (or as needed)
before and after workouts. But can take larger doses post workout if desired up to 4 Tablespoons.
Approximately 7g protein per Tablespoon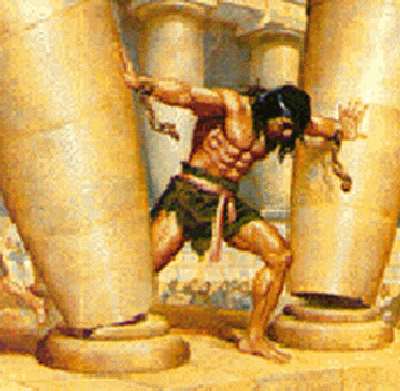 2 Reviews
Strength of Samson Powder

I feel great when adding this to my smoothie. I just ran out and need to restock because my boys use heaping tablespoons in their smoothies too. I had to tell them who it was named after and now they won't make a smoothie without it. I feel alert and have more energy while taking this. This is a quality powder and I am confident their blend uses the finest herbs!

Delicious, filling, perfect blend

Our family switched from using VegaOne powder to the Strength of Samson blend and it's been a delicious change. In learning about Samson, our boys are eager to drink their muscle smoothies and as a mom, it's a the perfect energetic start to my day. Our standard recipe is frozen mango, banana, Samson, Superfood Blend and water, but it works in all of the combos we've tried. We've found a new staple in our family's plant-based diet.